• The 2-year US Treasury yield jumped above 4% after the FOMC meeting.
• Yields are now likely to target 4.5%.
• This should result in a strong spike in stock market volatility.
The yield on US Treasury bonds rose above 4% after the meeting of the Federal Open Market Committee (FOMC) on September 21, and it is possible that this growth will continue. This meeting revealed many details and charted the potential course of monetary policy for the remainder of 2022 and 2023. This course turned out to be more hawkish than expected, creating the conditions for an early breakout of the 4.5% level of 2-year Treasury yields.
Yields are now just catching up with Fed funds rate futures for December 2023. It has moved almost in unison with the December contract since August, lagging about 20 basis points.
2-year yield compared to December contract
If the market believes the FOMC's economic forecasts and the overnight federal funds rate does rise to 4.6%, then the December contracts will eventually need to rise to 4.6%. Based on the current spread between the 2-year yield and the December futures, the yield should approach 4.4-4.5%.
technical breakdown
The charts also point to the possibility of a further increase in the yield of 2-year Treasuries from the current level of about 4.15%. They have only one technical resistance level in the 4.25% area and no natural resistance at all until the yield hits around 4.65%. Such a wide range of resistance is associated with the high rate of decline in yields in 2007, when investors began to factor in the rising risk of a recession.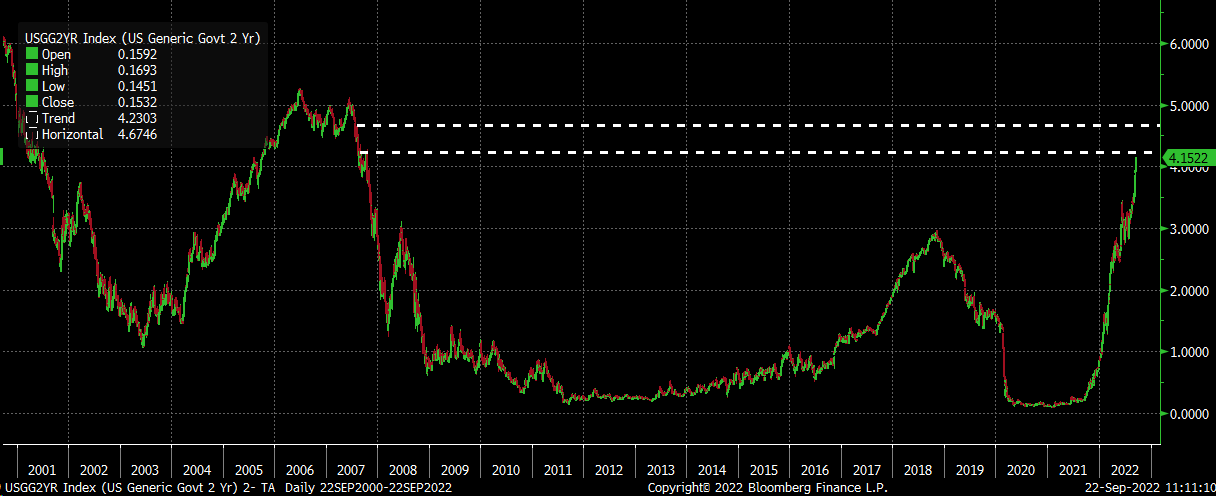 Increased volatility
An increase in yields at the short end of the yield curve will generally negatively impact equities due to higher credit spreads. The ratio of iShares 1-3 Year Treasury Bond ETF (NASDAQ:) and iShares iBoxx High Yield Corp Bond ETF (NYSE:) exchange-traded funds mimics the Markit CDX High Yield Index spread. When compared with , this ratio shows that when the spreads on high-yield bonds increase, the volatility index also increases, and this indicates an increase in volatility in the stock market.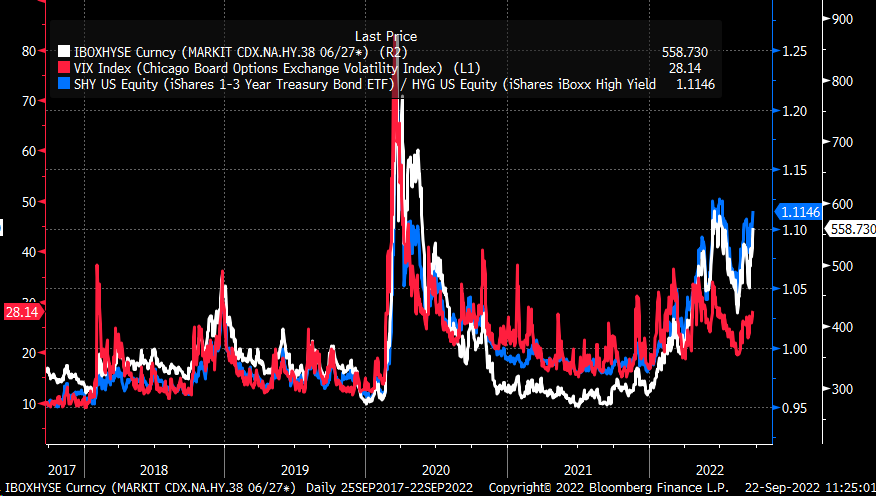 SHY, HYG – daily timeframe
Increased volatility is, of course, a nuisance for the stock market in general and for high beta stocks. Unfortunately, some of these stocks have already been hit hard, such as stocks that have become investor favorites during the pandemic.
Many of these stocks have already declined sharply, even though their valuations are more accurate now than they were about a year ago. If the market does experience a burst of volatility in the short term, these stocks will be vulnerable.
Over the next few weeks, 2-year Treasury yields seem to continue to rise strongly, and this is likely to affect the stock market, causing increased volatility and lower quotes.
Disclaimer: Charts used with permission from Bloomberg Finance LP This article contains independent commentary, which may be used for informational and educational purposes only. Michael Kramer is a Member and Advisor (IAR) of Mott Capital Management. Mr. Michael is not affiliated with this company and is not on the board of any of the related companies that issued the real shares. All views and analyzes expressed in this analysis or market review are solely those of Michael Cramer. Readers should not take any of Michael Kramer's opinions, views, or forecasts as specific advice or recommendations to buy or sell specific securities or pursue a specific strategy. In his analysis, Michael Cramer relies on information that he believes to be reliable and independent research data, however, neither Michael Cramer himself nor Mott Capital Management can guarantee its completeness and accuracy, therefore, you should not rely on it as a complete and accurate analysis. Michael Kramer is under no obligation to update or correct the information contained in his analysis. Mr. Kramer's statements, projections and opinions are subject to change without notice. Past results are not indicative of future results. Neither Michael Kramer nor Mott Capital Management guarantee any particular outcome or profit. You should be aware of the real risk of loss if you follow the strategies and investment ideas presented in this analysis. The price or valuation of the described strategies and investments may fluctuate. The investments and strategies mentioned in this analysis may not be right for you. This material does not take into account your specific investment goals, financial situation and needs and is not intended to be appropriate advice for you. You must make independent decisions regarding the investment ideas and strategies mentioned in this analysis. At your request, the consultant will provide you with a list of all recommendations made in the last 12 months. Before using the information presented in this analysis in any way, you should evaluate whether it is appropriate for your circumstances and seriously consider seeking the advice of your own financial or investment adviser to reach a conclusion about the appropriateness of an investment. .